April 30, 2021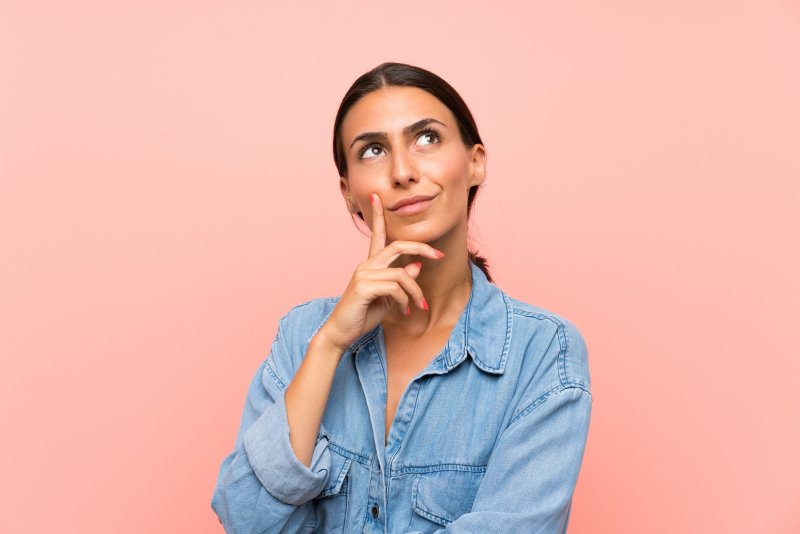 Did you know that a whopping 80% of Americans wish their teeth were whiter? If you are a part of this statistic, then there is no better time to visit your cosmetic dentist. After all, advancements in technology and the field of dentistry have made treatments safer and more effective than ever before. However, with so many smile-transforming solutions to pick from, how can you tell which one is right for you? If you are struggling with dental discoloration, keep reading as a cosmetic dentist shares whether you should opt for teeth whitening or veneers.
What Causes Dental Discoloration?
Before weighing the pros and cons of each stain-busting treatment option, it is important to determine the cause of your dental discoloration. A few of the most common culprits include:
Dark-colored foods and drinks
Tobacco use
Poor dental hygiene
Certain medications
Genetics
Trauma
Teeth Whitening vs. Veneers: Which Is Right for You?
Teeth whitening and veneers are two cosmetic treatments that can effectively address dental discoloration head-on. So, which one is right for you? That depends. For example, if you are struggling with surface stains, in-office teeth whitening can lighten your smile up to eight shades in a single visit with one quick, non-invasive treatment. On the other hand, veneers can address permanent discoloration. Although this smile-enhancing solution is much more invasive, the results can last for 10+ years and the entire process can be completed in as little as two appointments. In short, both treatments can provide you with the smile of your dreams; the right choice for you depends on your dental needs and smile goals.
How Your Cosmetic Dentist Can Help
Selecting the right treatment can initially be overwhelming. Fortunately, that's where your cosmetic dentist comes in! At your initial consultation, they will sit down with you to learn more about your smile goals before conducting a thorough dental exam. From there, they can discuss the benefits of each treatment for your smile specifically. After answering any questions you have and helping you make an informed decision, they will create a custom treatment plan and get to work on making your dream smile a reality.
Dental discoloration is a cosmetic concern many Americans struggle with. Fortunately, if you are one of them, you can leave stubborn stains in the past thanks to teeth whitening and beautiful veneers! Get in touch with your cosmetic dentist today to find out which one is right for you.
About the Author
Dr. Roger Morton completed his dental doctorate at the University of Texas Health Science Center at San Antonio, and he has been helping patients in his community achieve their smile goals for nearly two decades now! Today, he is an active member of multiple professional organizations, including the American Dental Association, which allows him to provide the absolute best preventive, restorative, and cosmetic dentistry. If you are interested in learning more about teeth whitening and veneers or would like to schedule your initial consultation, visit his website or give him a call at 972-442-5599.
Comments Off

on Teeth Whitening vs. Veneers: Which Is Better For Addressing Dental Discoloration?
No Comments
No comments yet.
RSS feed for comments on this post.
Sorry, the comment form is closed at this time.