Teeth Whitening – Wylie, TX
Boost Your Smile Quickly with Take-Home Teeth Whitening!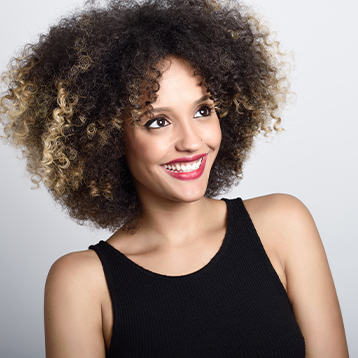 Do you find yourself on the go so often that it's difficult to get a dental appointment in? Need to whiten your teeth in time for an upcoming business event or other social gathering where you know lots of pictures are going to be taken? Polar White® take-home teeth whitening treatment utilizes bleaching gel that you won't find simply over-the-counter. And, you won't need to visit our dental office every time you need a touch-up thanks to its portability and ease-of-use! Call our dental office to get yours today!
Why Choose Wylie Family Dentistry for Teeth Whitening?
Strong Bleaching Gel – 17% Carbamide Peroxide
LED Light for Accelerated Whitening
Friendly and Judgement-Free Dentist and Team
How Does Professional Teeth Whitening Work?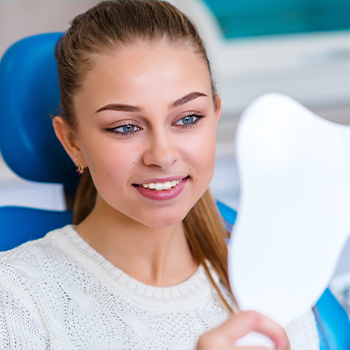 Unlike cheaper over-the-counter solutions for whitening teeth, professional-grade solutions take the whitening process a step further. Because the ingredients used to carry a higher concentration of bleaching chemicals, including carbamide peroxide, they are more effective at permeating through tooth enamel and addressing the deep layers of staining that store-bought solutions cannot. With just two weeks of use, you can expect a smile that is whiter and brighter. Plus, it's easy to perform touch-ups in between your routine visits.
Teeth Whitening FAQs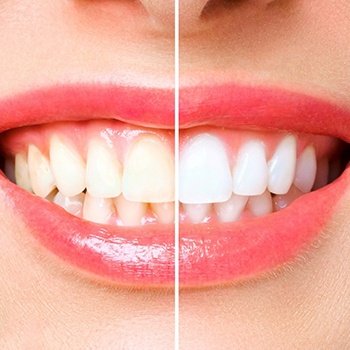 Reading through the above information is a great place to start if you are considering teeth whitening in Wylie. If you are ready to schedule your initial consultation and take the next step toward your smile transformation, don't hesitate to get in touch. On the other hand, if you have a few questions on your mind before committing to treatment, that's okay too! Keep reading for the answers to some of the most frequently asked questions.
What Causes Tooth Stains?
There are a number of reasons that your teeth might become discolored, including:
The natural aging processes
Smoking
Poor oral hygiene
Trauma
Consuming dark liquids like coffee, tea, or colored sodas
Exposure to excessive fluoride or tetracycline in childhood
Fortunately, professional teeth whitening from your dentist can help in most of these situations.
How Does Professional Teeth Whitening Work?
First and foremost, your dentist uses a special whitening solution that is several times more potent than anything you can find in stores or online. Usually, the main ingredient is hydrogen peroxide or carbamide peroxide. Your dentist can prescribe customized whitening trays at home. The active ingredient permeates the tooth enamel to remove stains both above and below the surface of the tooth. If you opt for take-home treatment, you'll have to wear your trays for a prescribed amount of time each day, with your smile up to eight shades whiter after about two weeks.
Does Teeth Whitening Work for Everyone?
Unfortunately, not even professional teeth whitening works for every smile. For example, yellow teeth can usually be corrected with whitening treatments, but teeth that are brown- or gray-toned may not respond well. Whitening with also not work on dental restorations, such as crowns, veneers, or fillings. Other than those exceptions, teeth whitening should work on just about everybody's smile.
What's the Difference Between Professional and Store-Bought Teeth Whitening?
Since store-bought whitening kits are marketed as cost-effective, reliable stain-busting solutions, it's not surprising why so many patients are curious why professional brightening treatments are the superior option. To start, over-the-counter products use one-size-fits-all applicators and diluted brightening agents while professional alternatives use professional-grade, customized tools that can lighten your smile up to eight shades in a single visit! Additionally, professional whitening treatments begin with a thorough dental exam to ensure your oral health is in good shape and your existing restorations (i.e., dental crowns, veneers, etc.) are considered. The same, however, cannot be said for store-bought solutions.
Does Teeth Whitening Damage Enamel?
If used correctly, teeth whitening treatments will NOT damage healthy enamel. However, using non-approved products, like hydrogen peroxide, can compromise the condition of your teeth and gums. That is why you should always speak directly with your cosmetic dentist in Wylie before conducting treatment on your own. This is also an important step in achieving your smile goals safely because their dental exam can take into account factors like tooth decay and existing restorations, which play a role in how your whitening treatment affects your oral health.
Does Teeth Whitening Work on Dental Crowns?
Whitening products are designed to lift stubborn stains and discoloration from tooth enamel, not materials like porcelain. Therefore, restorations like dental crowns cannot be whitened like your natural teeth. If you are unhappy with the shade of your smile but have existing dental work to consider, don't hesitate to discuss this with our cosmetic dentist in Wylie!
Is Teeth Whitening Permanent?
Sadly, teeth whitening is not permanent. Typically, the results from your treatment will last anywhere from a couple of months to a few years – it all depends on how well you care for your smile! Priority number one is to implement a solid at-home oral hygiene routine, visit our team every six months for a dental checkup and cleaning, and avoid poor dental habits, like smoking. Limiting dark-colored beverages and foods, like coffee and berries is also important.
Is Teeth Whitening Covered by Dental Insurance?
Since teeth whitening is an elective procedure, it usually isn't covered by dental insurance. However, before you get discouraged, it is important to know that there are other ways we can help make your treatment affordable, like flexible financing through CareCredit and periodic special offers! Don't worry – we will cover all the different resources available to you during your initial consultation.
Am I a Candidate for Teeth Whitening?
If your once-white teeth are beginning to take on a yellow tinge, then you may be a candidate for teeth whitening! The best way to find out is to schedule an initial consultation with our cosmetic dentist in Wylie. From there, our team can conduct a thorough dental exam. If your teeth and gums are in good shape, we'll begin working on your custom treatment plan. If an untreated dental problem, like a cavity, is discovered, then we will administer the appropriate treatment first.