Dental Crown And Bridge – Wylie, TX
Strong, Beautiful Restorations For Missing or Damaged Teeth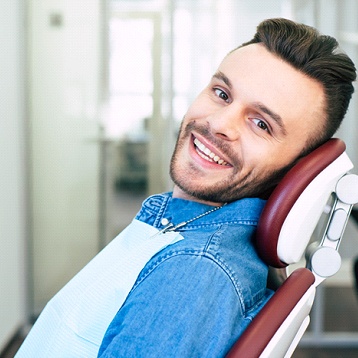 Nearly everyone has experienced dental problems like cavities or fractures at some point. Sometimes these issues are severe and can't be repaired with simple dental fillings. In other cases, a tooth can't be saved at all and needs to be extracted. At Wylie Family Dentistry, Dr. Morton can beautifully restore your smile in any of these situations. In addition to providing outstanding crown and bridge work with high-quality materials like ceramic and porcelain, we also offer dental implants for results that feel incredibly natural. If you'd like to replace a missing tooth or have any teeth in need of repair, give us a call today to schedule a consultation.
Why Choose Wylie Family Dentistry For Dental Crowns and Bridges?
#1 We Use Beautiful, Long-Lasting Materials Like Ceramic and Porcelain
#2 In-House Payment Plan For More Affordable Monthly Payments
#3 Experienced Restorative Dentist With An Eye For Aesthetics
How Are Dental Crowns and Bridges Made?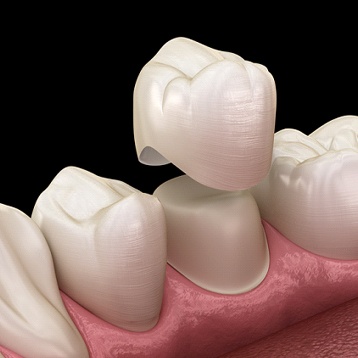 A dental crown restores the shape, strength, and function of a tooth. Sometimes called a "cap," it fits snugly over the entire visible part of a tooth (called the crown). Each crown is custom-made for your smile to look very natural. A dental bridge is a non-removable restoration that replaces a missing tooth by using the two adjacent teeth on either side for support. After putting dental crowns on these two teeth, they're fused to a "floating" dental crown in the middle that bridges the gap.
The process of getting a crown or bridge is very similar and both procedures are done in two appointments. Here are the basic steps involved:
First, Dr. Morton will numb the area with local anesthetic. Then he'll reduce your tooth (or teeth) in size to create room for a dental crown. This ensures that it doesn't look or feel bulky.
The next step is taking impressions that will be sent to the dental lab, along with precise instructions for color, size, and shape. It usually takes them two weeks to create a crown or bridge.
In the meantime, we'll put temporary crowns on your teeth so they'll look and function normally until your second visit.
Lastly, you'll come back to have your new crown or bridge permanently cemented into place. Dr. Morton will make any necessary adjustments and make sure it feels great.
The Benefits of Dental Crowns and Bridges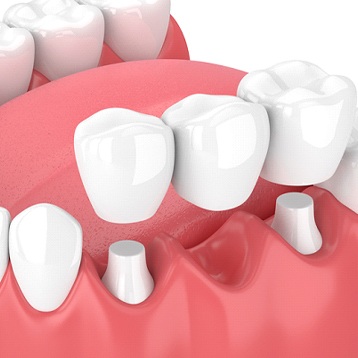 Good oral health depends on having a full set of teeth. Even missing just one tooth can lead to your other teeth shifting, TMJ pain or problems, uneven wear, and cavities or gum problems. Dental crowns and bridges prevent these problems by giving you a full, complete smile. Not to mention that you won't have gaps that detract from your self-confidence and appearance. In addition, dental crowns and bridges are long-lasting and can function for 10-15 years with proper care and maintenance.
How Can You Maintain a Crown or Bridge?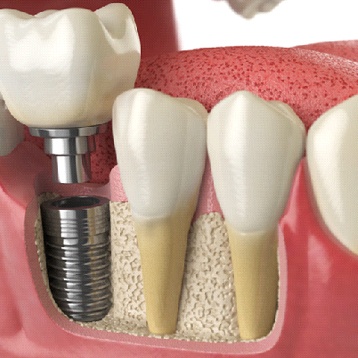 The cleaner you can keep a crown or bridge, the longer it will last. Fortunately, this isn't too different from the way you maintain your natural teeth. Brushing at least twice a day, flossing once, and seeing Dr. Morton for regular checkups will go a long way towards keeping your crown or bridge in great shape.

With that said, many people find it helpful to use special tools such as floss threaders, interdental brushes, an electric toothbrush, or an oral irrigator. If you'd like tailored recommendations, just ask us at your next visit. We'll be happy to help you get the most from your oral hygiene routine so your dental work lasts as long as possible.
Also, it's a good idea to avoid chewing on ice, hard candies, pens, pencils, etc. And if you clench or grind at night, a nightguard will help protect your crown or bridge from chipping or cracking.
The Benefits of a Dental Implant Instead of a Bridge
As an alternative to replacing a missing tooth with a bridge, you might opt for a dental implant instead. An implant replaces the root and crown of a missing tooth, whereas a bridge only replaces the crown. This provides multiple advantages:
An implant is longer-lasting – Implants can last more than 30 years (or even a lifetime).
Healthy teeth aren't affected – A traditional bridge requires permanently altering the healthy teeth on either side of an empty space. With an implant, these teeth won't be touched.
Implants maintain your jawbone – Since a bridge only replaces the crown of a missing tooth, your body will begin to naturally "reabsorb" the jawbone that once surrounded the root. An implant prevents bone loss.
Superior chewing strength – The chewing strength of an implant is comparable to a natural tooth.
During your consultation, Dr. Morton will review your options in more detail to help you make the best decision.