Dental Implants — Wylie, TX
The Long-Term Solution to Tooth Loss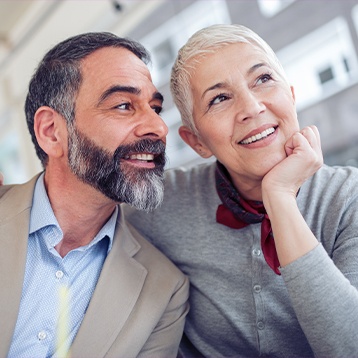 While bridges and dentures solve many problems that arise from tooth loss, they don't go as far as they could. That's where dental implants come in. By replacing your entire tooth, you effectively restore many of the functions you were used to when you had all of your teeth, not just the aesthetic or surface-level functions. Once your implant(s) are placed, Dr. Morton can provide a restoration that looks and feels incredibly natural, so you can live your life without constant interruptions from overworked dentures and bridges.
Why Choose Wylie Family Dentistry for Dental Implants?
Works with Top Dental Specialists for Placement
Manageable Monthly Dental Payment Plans Available
Nitrous Oxide Sedation for Nervous Dental Patients
What Are Dental Implants?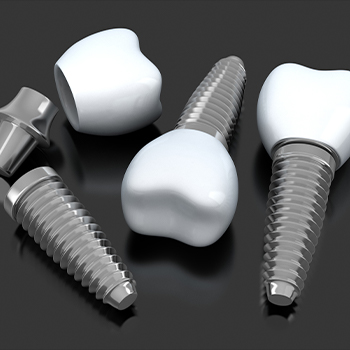 Dental implants are designed to replace teeth to the fullest extent, meaning the root portion is also replaced. This is significantly different than replacing teeth solely with bridges and dentures, neither of which really get to the heart of tooth loss's most common long-term side effects and complications. If you want to eat your favorite foods without worry, prevent changes to your bone structure (as well as your overall jaw shape), and restore your smile's appearance to the fullest, all while making invaluable steps towards maintaining positive oral health, you'll quickly learn why dentists recommend dental implants first when you're eligible to receive them.
Partnered With Wylie's Best Specialists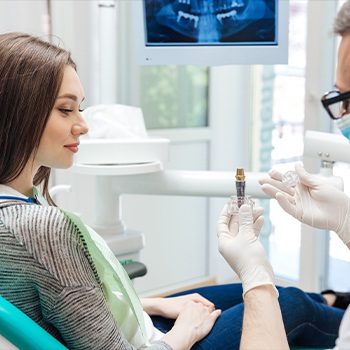 Dr. Morton works with some of the best oral surgeons in Wylie to have your implants placed. By working with these specialists, we ensure that your dental implant treatment is as successful and predictable as possible. They'll go over your needs, plan every step of your treatment, and confirm your eligibility to receive implants. Once the implants have fully healed and integrated, you'll come back to our dental office to have your custom-made restoration fitted.
Benefits of Dental Implants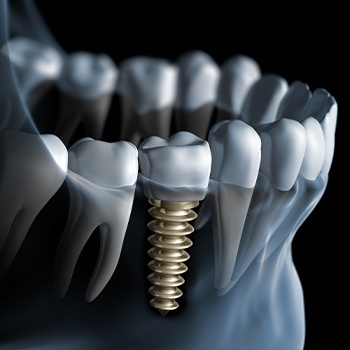 If you have missing teeth, you're probably researching the best tooth replacement option. During your search, you may be considering dental implants, one of the most popular solutions. But why are dental implants so amazing and are they worth the investment? At Wylie Family Dentistry, we want our patients to have access to the best treatments available, which is why we offer dental implants. Read on to learn about the top benefits you can enjoy with this amazing tooth replacement!
Durable and Long-Lasting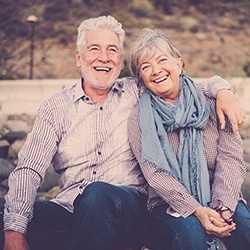 One of the most significant advantages of dental implants is that they're the only tooth replacement option that is designed to last for a lifetime with proper care. Your restorations will eventually need to be replaced, however the implants are made of durable titanium, which allows them to become a permanent part of your body. This can even save you money in the long run from avoiding the need for replacement implants.
Enjoy a Better Diet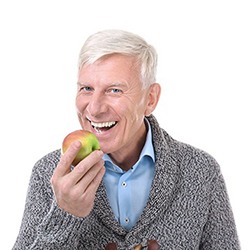 Have you been avoiding certain foods because you're missing teeth? Maybe you have dentures that slip and slide around when you're trying to chew? With dental implants, you can eat all your favorite foods without a second thought. Rooted firmly in the jawbone, dental implants feel and function just like your natural teeth, allowing you to chew a variety of foods. This not only increases your quality of life, allowing you to enjoy a wide range of flavors, but dental implants also let you get the nutrition you need to stay healthy.
Restore Your Appearance and Confidence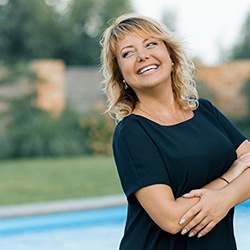 One of the unique benefits of dental implants is that they stimulate the jawbone to prevent it from deteriorating after tooth loss. This not only protects you from additional lost teeth, but it keeps your jawbone healthy, which maintains your full and youthful facial appearance. Dental implants help you look and feel better, giving you a serious confidence boost. If you hid your smile in public due to missing teeth, dental implants will give you the power to grin once more! Plus, dental implants allow your restoration to appear as if it was emerging from your gums just like your natural teeth.
Easy Oral Healthcare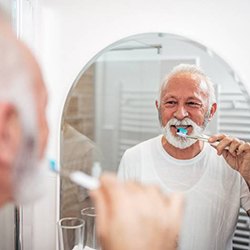 One of the advantages of choosing a tooth replacement that looks, feels, and functions just like your natural teeth is that your oral healthcare routine is stress-free! Simply brush and floss as you normally would and visit our office for routine checkups and cleanings. We may recommend the use of a water flosser, or another easy to use instrument, but maintenance is a breeze because you won't have to worry about removing parts of your smile for cleaning.
Who Dental Implants Can Help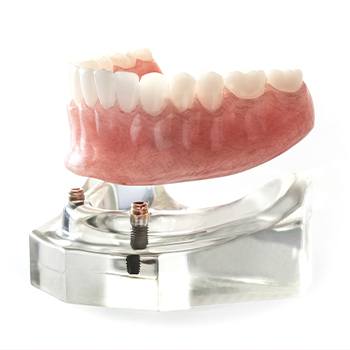 Dental implants are ideal for patients with many types of tooth loss. It doesn't matter if you're missing one tooth or several, dental implants are capable of resolving both types of problems. Below, you'll find three approaches you can take for addressing your tooth loss!
Missing One Tooth
Replacing one tooth, regardless of which arch or tooth you're replacing, takes just one titanium implant post and one all-porcelain crown. Our dental office uses porcelain because of how well it mimics and reflects light like real tooth enamel.
Missing Multiple Teeth
As an alternative to the traditional method for dental bridges, dental implants can act as the anchors for your new restoration. Instead of modifying the existing tooth structure to hold the bridge, a pair of dental implants holds each side of the restoration. This makes it easy to fill the gap in your smile while still receiving the restorative benefits implants provide.
Missing All Teeth
Is your full or partial denture becoming more of a nuisance than you remember? If you aren't interested in repairing or replacing your denture, it may be time to consider implant-related solutions instead. By placing four to six implants throughout the jaw, you can effectively anchor a fixed or removable denture.
Understanding the Cost of Dental Implants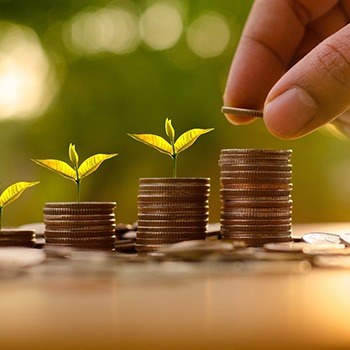 Are you interested in getting dental implants in Wylie but want to learn more about the cost? This procedure is customized to fit each of our unique patient's needs, which is why the first step towards figuring out whether implants are right for you is to schedule a consultation. There are a variety of factors that go into the price, and even though the up-front cost may be higher than traditional restorations, both patients and professionals will agree that the investment is well worth it.
Preliminary Treatments & Dental Implant Surgery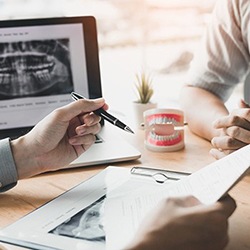 One great benefit of getting dental implants is that the procedure takes place over the course of several months and multiple stages. This means that you won't have to pay for the entire treatment up-front and can make a financial plan that will fit your budget. However, it's important to recognize that preparatory treatments may be needed before implants can be placed. This includes bone grafts, sinus lifts, and periodontal therapy.
Furthermore, implant surgery incurs its own unique cost just like the abutment and restoration do. This means the final price tag of your treatment can largely fluctuate depending on your specific needs.
The Parts & Type of Your Dental Implant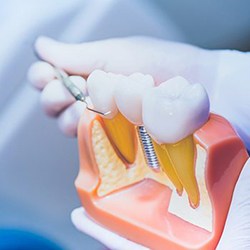 One of the primary factors that can alter the cost of your implant procedure is the type of restoration and number of dental implants that you need. For example, a patient requiring a complete implant restoration (such as a denture) will likely pay more for the procedure than a patient who needs to replace a single tooth with an implant crown. The best way to learn what type of dental implant you'll need is to visit with our highly skilled dentist in Wylie. After examining your mouth, Dr. Morton can walk you through how your dental implant procedure will work and what types of restorations you require.
Are Dental Implants Worth the Investment?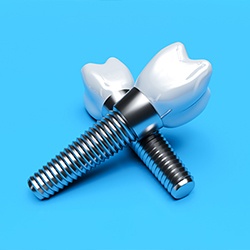 Other patients who have gotten dental implants will agree that they're well worth the investment because of all the benefits they have to offer. Plus, because they have an average lifespan that's about four times longer than traditional restorations, you'll be able to save more money down the road. To learn more about how implants can benefit your everyday life and restore the function and health of your grin, be sure to schedule a consultation with us today!
Dental Implant FAQs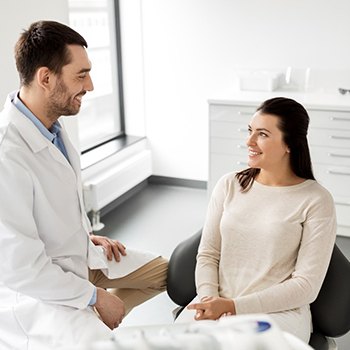 Now that you know more about the process of getting dental implants in Wylie, you're probably excited to move forward with treatment. However, since the procedure involves oral surgery and the placement of multiple dental implants, it's completely normal to have some questions about it. For your convenience, we've decided to answer a few of the most common questions we receive from patients. If you'd like to speak directly with a member of our team at Wylie Family Dentistry, don't hesitate to contact us and schedule an appointment today!
How Long Do Dental Implants Last?
Dental implants are one of the most long-lasting solutions for missing teeth, designed to last over 30 years with proper care and maintenance. Sometimes, they can even last patients a lifetime! And the best part? They don't require special care beyond what's already recommended to keep your natural teeth in good condition. That means you can help your new smile lasts as long as possible by practicing good oral hygiene, visiting your dentist every six months, and kicking bad habits to the curb (i.e., smoking, chewing on ice, using your teeth as tools).
Does Getting Dental Implants Hurt?
Before the procedure begins, your mouth will be completely numbed with a local anesthetic. Additionally, since the jawbone doesn't have many nerve endings, you shouldn't feel any discomfort during your surgery. Your mouth will feel slightly sore for the first few days following your procedure. Luckily, you can manage these symptoms by taking prescribed or over-the-counter pain medication and using cold compresses. If your pain persists or worsens after a few days, you should contact Dr. Morton for assistance.
How Successful Are Dental Implants?
If placed by a skilled dental professional, dental implants have an impressive success rate of over 95%. Of course, their success depends heavily on how well you take care of them after your procedure. Practicing good oral hygiene, visiting your dentist every six months, and following a healthy diet are just a few ways you can ensure your new smile lasts as long as possible. The success of your dental implants can also vary based on their location in the mouth. For instance, since molars receive more strain from chewing than front teeth, they're a bit more likely to fail.
What Can Cause Dental Implants to Fail?
Dental implant failure is relatively uncommon. However, it can most likely occur for one of two reasons: peri-implantitis or failed osseointegration. Peri-implantitis is a type of gum disease that results from poor oral hygiene, damaging the bone and connective tissues supporting the implant. Failed osseointegration happens when the titanium post doesn't integrate with the jawbone. A few other causes of dental implant failure include chronic teeth grinding, tobacco use, poor oral hygiene, and more. At your consultation, Dr. Morton will explain how you can minimize your risk of implant failure.