March 22, 2021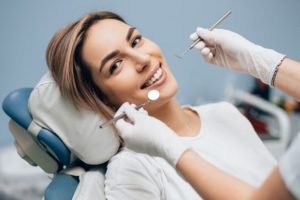 If you're missing at least one tooth, you're not alone. Millions of Americans are missing parts of their smile, which is why there are various options for replacement. If you're looking for the best solution, you probably want something that looks great, but restoring your smile is vital for more than just cosmetic reasons. Tooth loss causes jawbone deterioration, which can lead to more missing teeth and a sunken facial appearance over time. Read on to learn about your tooth replacement options and how you can preserve your jawbone.
Your Tooth Replacement Options
Two of the most popular tooth replacement options are:
Dentures
The easiest and most affordable way to receive a full or partial smile replacement, a denture is a prosthetic, gum colored base that is attached to artificial teeth. Dentures are usually made of resin, and full prosthetics rely on suction to stay in place. Partial dentures are typically supported with metal clasps. This option successfully replaces the visible portion of your smile.
Dental Implants
A dental implant is a tiny titanium post that is surgically placed in the jawbone to act as an artificial tooth root. Titanium is biocompatible, allowing the implant to integrate into the jawbone. Once in place, a dental implant can support a restoration like a crown to complete your smile. Dental implants restore the entire tooth from the roots up for the only comprehensive replacement.
Which Solution Preserves the Jawbone?
Your teeth have a surprising job that is incredibly important for the health of your jaw. Their roots stimulate the jawbone, keeping it healthy and strong. However, when you lose teeth, the jaw misses out on that stimulation it was once getting, which leads to deterioration. Unlike dentures that rest on top of the gums, dental implants are rooted in the jawbone, allowing them to stimulate it just like your natural teeth. This will prevent the bone deterioration that causes an older facial appearance and potential loss of your remaining smile.
Other Advantages of Dental Implants
Jawbone preservation isn't the only benefit of choosing dental implants. There are a wide range of advantages, including:
Versatility: Dental implants can be used to replace one tooth or be combined with a denture for a full smile restoration.
Durability: With proper care, implants can last for over 30 years. However, dentures will only last for an average of 5 to 7 years.
Stability: Unlike dentures, implant won't slip and slide. This makes it easy to eat, speak, and smile with ultimate confidence.
Are you ready to enjoy the variety of benefits that implants have to offer? Jawbone preservation is always worth the investment, so contact your dentist to discuss this option and recover your smile.
Meet the Dentist
Dr. Roger Morton has nearly 2 decades of dental experience, and he participates in continuing education courses focused on advanced treatments like removeable dentures and dental implants. He takes pride in providing various solutions based on his patients' needs. To learn more about dental implants, schedule a consultation through his website or by phone at (972) 442-5599.
Comments Off

on Implants Vs. Dentures – Can Dentures Prevent Jawbone Loss?
No Comments
No comments yet.
RSS feed for comments on this post.
Sorry, the comment form is closed at this time.