March 17, 2020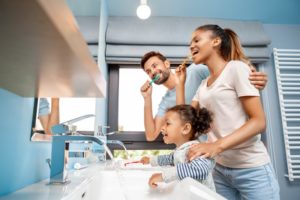 Due to the COVID-19 crisis, businesses across the country are temporarily closing their doors in an effort to control the spread of the virus. One of those is your local dentist, who will only be accepting emergency patients while the shelter-in-place orders are active. If you're diligent about visiting them for your checkups and cleanings every six months, it may be causing you some anxiety at the thought of skipping an appointment. Until they open their doors again, it'll be up to you to care for your smile while you're self-isolating. Read on for four oral health tips so you can stay healthy.
Wash Your Toothbrush Holder
A 2011 Public Health Organization report found that 27 percent of toothbrush holders across the country tested positive for Salmonella and E.Coli. In fact, it's one of the dirtiest items in households because it contains all of the traits of an environment where bacteria can thrive: it's moist, dark, and you store an item that you use to clear bacteria out of your mouth in it! You can clean your toothbrush holder by running it through the dishwasher or soaking it in some bleach and water and rinsing it out. That way, you won't have to worry about getting sick with an unknown virus or bacteria!
Wash Your Hands Before You Brush
According to the CDC, COVID-19 is spread via droplet transfer to your mucous membrane, or through your eyes, nose, and mouth. When you brush and floss your teeth, your hand is close to and even in your mouth, trying to get the best angle to reach difficult and closed-off areas that collect plaque. Before you start your daily oral hygiene routine, be sure to thoroughly wash your hands for 20 seconds and regularly sanitize the handle of your toothbrush to reduce your risk of spreading viruses to your mouth.
Change Out Your Toothbrush If You Get Sick
You should always change out your toothbrush after you get sick, because bacteria and viruses can easily become trapped in the bristles and potentially reinfect you. While it's not confirmed that COVID-19 patients can become reinfected, it's still flu, allergy, and cold season, so it's better to err on the side of caution and switch out your brush if you get sick. This will minimize your risk of getting sick again as soon as you've recovered.
Don't Forget to Floss
Countless people, both adults and children, often skip flossing their teeth because it's uncomfortable and difficult. Unfortunately, this leads to an increased risk of developing common oral health problems such as gum disease and tooth decay. In order to avoid any of these issues arising, especially while your dentist is closed, be sure to diligently floss between each of your teeth to remove plaque and bacteria.
While you're self-isolating in the comfort of your own home, it's important to take additional precautionary measures to ensure that you don't become sick or develop an oral health problem. With so much stress and anxiety on everybody's shoulders across the world, by taking care of your health, you'll be able to reduce any burden of developing conditions.
About the Author
Dr. Roger Morton has over two decades of experience in the dental field and is incredibly passionate about helping his patients optimize their oral health. He is an active member of several professional organizations, which helps keep him up-to-date with the latest techniques and technology in the dental world. He has also completed advanced courses in several dental specialties, including endodontics and dental implants. For questions or to schedule an appointment, visit Wylie Family Dentistry's website or call 972-442-5599.
Comments Off

on 4 Oral Health Tips During the COVID-19 Crisis
No Comments
No comments yet.
RSS feed for comments on this post.
Sorry, the comment form is closed at this time.