February 25, 2020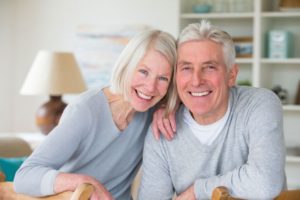 If you're missing at least once tooth, chances are you've heard of or maybe even considered replacing it with dental implants. These biocompatible titanium posts are considered the gold standard of tooth replacement today. Once they're placed, they can last for several decades, possibly even the rest of your life. But how long does it take to recover from getting implants? Let's go over an approximate timeline of all the steps involved.
Preliminary Procedures
Sometimes, before you can even get your dental implants placed, you have to undergo some treatments first, the most common of which is a bone graft. When you're missing teeth, your jawbone is no longer stimulated by the roots of those lost teeth. As a result, the bone begins to shrink from disuse, meaning it's not strong enough to support a dental implant.
A bone graft involves your dentist placing artificial bone tissue onto your jawbone. Over the next few months, your jawbone will become strong enough to support as many dental implants as you need to restore your smile. However, it will add several months to your total healing time.
Implant Placement Surgery
During your implant placement, your dentist will make a small incision in your gum tissue, accessing your jawbone to place the implants directly in it. Your gums should be completely healed after a few weeks, but you'll unfortunately have to wait longer than that to receive your new teeth.
Once your implants have been placed, a remarkable process called osseointegration starts to occur. During this process, your jawbone actually grows around your implants until they are essentially the same structure. However, osseointegration can take anywhere from three to six months on average.
Abutment Placement
After osseointegration is complete, your dentist will place the abutment, which is a metal connector piece that attaches your new tooth to your implant. This will require another minor surgery which will entail a few more weeks of healing afterward.
Receiving Your New Teeth
Finally, after all that waiting, you're ready for your implant to be restored with a lifelike dental crown. Once this process is finished, no one but your dentist should be able to tell the difference between your implant and the rest of your natural teeth.
All in all, the total process of getting dental implants can take anywhere from six months to a year or longer. Every case is different, and your dentist should go over a more detailed timeline with you at your consultation. However, you shouldn't let the long wait time deter you from replacing your missing teeth from a solution that could last the rest of your life!
About the Author
Dr. Roger Morton has been a dentist for more than 20 years. He partners with the best oral surgeons in the Wylie, TX community in order to place dental implants, and he can restore them himself with a realistic dental crown, bridge, or denture. To get a more accurate and personalized implant healing timeline, visit Dr. Morton's website to schedule a consultation.
Comments Off

on How Long Does It Take for a Dental Implant to Heal?
No Comments
No comments yet.
RSS feed for comments on this post.
Sorry, the comment form is closed at this time.