March 26, 2020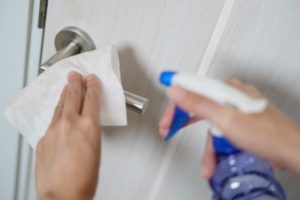 Last month, most dental practices around the country followed the ADA's recommendation of postponing all elective procedures and solely providing emergency dental care. This is in an effort to prevent local ERs from becoming more overwhelmed than they already are. In order to keep their staff and patients safe, they're adhering to strict and thorough CDC precautionary guidelines. That way, if you need to visit their office, you can rest assured that you'll remain healthy and safe. Read on to learn some of the key preventive measures your emergency dentist is taking to prevent the spread of COVID-19.
How is COVID-19 Spread?
According to the CDC, the COVID-19 virus is primarily spread from person-to-person via contact of respiratory droplets when someone who is infected coughs or sneezes. These droplets can transfer to commonly-touched surfaces such as door handles, countertops, or even spray up to six feet in front of the person sneezing, which is why the social distancing rule is in place. When these droplets are transferred in the nose, mouth, or eyes of the person by touching the face or being inhaled, it can then infect others.
What Precautionary Measures is Your Dentist Taking To Keep Patients Safe?
In order to prevent the spread of COVID-19, your dentist is only offering emergency dental care to limit office traffic and prevent emergency rooms from becoming packed with potentially positive COVID-19 patients as well as dental emergency patients. They're keeping their patients safe by following CDC guidelines, including the following practices:
Performing regular and frequent hand hygiene.
Wearing personal protective equipment over the eyes, face, and hands.
Following preventive coughing and sneezing etiquette by covering mouths.
Sanitizing common areas and treatment rooms before and after appointments.
Screening patients over the phone before they visit for an appointment.
With these measures in place, among others, dentists are able to control and reduce the risk of spreading COVID-19 to staff and patients, making their office a safe and sterile treatment facility. By continuing to provide services, they're also able to prevent healthy patients from going into unpredictable and potentially risky environments such as ERs and urgent care centers to address dental emergencies.
When Should You Visit Your Dentist?
It's important to remember that your dentist is only taking emergency patients at the moment, which means that they aren't conducting preventive, cosmetic, or even restorative services. If you believe that you need urgent treatment, first, call their office. Situations such as a knocked-out tooth, broken tooth, painful toothache, and any oral pain or discomfort, are all good signs that you need immediate intervention.
If you're in doubt about whether you require timely care, your dentist can let you know over the phone and suggest first-aid guidance until you're able to reach their office. When you immediately address the problem, you can reduce the chances that it will become worse.
About the Author
Dr. Roger Morton has over two decades of experience treating countless patients for emergency dental problems. He focuses on providing his patients with fast, effective, and pain-free urgent care that will get their oral health back on track. He is an active member of several professional organizations, which allows him to sharpen his skills and provide the high-quality treatment his patients deserve. For questions or to schedule an emergency appointment, visit Wylie Family Dentist's website or call 972-442-5599.
Comments Off

on How is Your Emergency Dentist Keeping You Safe During COVID-19?
No Comments
No comments yet.
RSS feed for comments on this post.
Sorry, the comment form is closed at this time.