November 14, 2019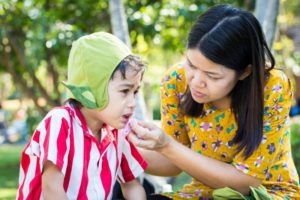 Most people hold off on calling their emergency dentist in Wylie because they don't want to make a big deal out of a small problem that might go away on its own. Chances are, if you're experiencing oral discomfort or symptoms that are out-of-the-ordinary, there's something wrong. Putting problems on the backburner usually only makes them worse, which is why it's so important to act quickly and get treatment as soon as possible. Read on to learn how to tell if you need urgent dental treatment and what you can do to ease your pain in the meantime.
Signs That You Have a Dental Emergency
The longer you let a problem progress, the more damage you'll cause your mouth, which is why time is of the essence in any dental emergency. Here are a few signs that you need immediate attention from a professional:
Severe Dental Damage- If you chipped or broke a large portion of your tooth, and it's extremely sensitive, you could be at risk for developing a tooth infection. Your dentist will repair the damage and protect the fragile inner portion of your tooth.
Intense, Painful Toothache- Severe toothaches are a common sign of a tooth infection. If your pain is causing you to wake up at night or keeping you from being able to focus on work, it's most likely not being caused by lodged food, meaning you may need a root canal.
Painful Swelling- Swelling around your jaw and mouth can be a sign of a tooth or gum infection. To keep the infection from spreading, you need to get treatment as soon as possible.
Sudden Loss of Permanent Teeth- In the case of a knocked-out tooth, acting quickly is important. Visit your dentist within the hour and bring your tooth with you.
If You Answer "Yes" To These Questions, Call Your Emergency Dentist
Anytime you experience painful or unusual oral symptoms, it's difficult to know whether you should seek emergency dental care. If you answer "yes" to any of these, you should call your dentist right away to schedule a same-day appointment:
Are you experiencing oral bleeding that won't stop?
Do you have a tooth that feels loose or extremely sensitive?
Are you experiencing any facial swelling?
Have you been involved in a sporting accident that impacted your mouth and you are now in pain?
Dental Emergency First-Aid Tips
To reduce your risk of developing further damage, you can contact your local emergency dentist and they'll provide you with first-aid tips until you get to their office. They'll walk you through the situation and stay with you along every step of the way if you feel stressed out or worried. They can also answer any questions or concerns that you have.
Knowing when to call your emergency dentist is important, because the longer that a problem is left untreated, the worse it gets. The faster you act, the less likely it will be that you need an invasive dental procedure.
About the Author
Over the last two decades as a dentist, Dr. Roger Morton has treated countless long-term and forced trauma dental emergencies. He does everything he can to fit patients in that same day, so they don't have to continue living in pain or discomfort. He also offers multiple sedation options for patients who are nervous or anxious about getting their issue treated. For questions or to schedule a same-day emergency appointment, visit Wylie Family Dentistry's website or call 972-442-5599.
Comments Off

on Do You Have a Dental Emergency? Here's How to Find Out
No Comments
No comments yet.
RSS feed for comments on this post.
Sorry, the comment form is closed at this time.