April 10, 2023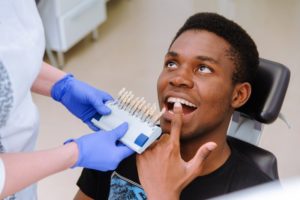 A study by OnePoll recently reported that 7 in 10 Americans admit to feeling self-conscious about their teeth. Whether it was the discoloration or the misalignment, their insecurity caused them to often hide their smile. The good news is that no one has to live with a grin that they don't love! Thanks to cosmetic dentistry, there are many treatments that can fix or cover a range of dental imperfections. However, there is one requirement before undergoing a smile upgrade: a healthy mouth. Here's what to know about good oral health and cosmetic dental treatments.
The Importance of Healthy Teeth Before Cosmetic Dentistry
While the focus of cosmetic dentistry is on improving the appearance of your teeth, this is only possible if they are in good condition. No matter what the treatment—veneers, professional teeth whitening, dental bonding—your oral health needs to be in good shape so the procedure can be successful and last as long as possible.
In order to go forward with upgrading your smile, your dentist will do a thorough examination. If there are any existing issues, they can treat them so your mouth will be ready for the procedure or treatment. The most common reason for a delay is a cavity. Healthy teeth provide a good foundation for cosmetic dentistry so they will want to get rid of any present tooth decay. If not, it could easily spread and ruin your treatment. You will save both time, money, and your oral health by tending to dental problems before transforming your smile!
How Can I Keep My Teeth Healthy?
To do your part in getting your mouth ready for a cosmetic dental treatment, you can practice these smile-friendly habits:
Maintain a Good Oral Hygiene Routine: By brushing twice a day and flossing daily, you will keep your mouth free from harmful bacteria and plaque buildup.
Be Mindful of Your Diet: To keep your teeth in good condition, choose nutrient-dense foods and limit the amount of sugary or starchy treats.
Keep Your Mouth Hydrated: Your saliva helps to keep your teeth clean and washes away food debris and bacteria. Be sure to drink water on a regular basis to keep your mouth moist.
Spend Time in the Sun: The sun helps your body produce vitamin D, which is known for strengthening your teeth and bones. It also assists your immune system in fighting infections.
By tending to your oral health, you will not only keep your teeth and gums healthy but be ready for your smile upgrade!
About the Author
Dr. Roger Morton and his team at Wylie Family Dentistry are eager to help keep your oral health and your smile in top condition. He earned his dental doctorate at the University of Texas Health Science Center at San Antonio and is an active member of the American Dental Association. With a focus on customized care with the use of advanced dental technology, he offers many cosmetic treatments, such as veneers, professional teeth whitening, and dental bonding. To schedule an appointment, contact him through his website or call (972) 442-5599.
Comments Off

on A Healthy Mouth Is Key Before a Smile Upgrade
No Comments
No comments yet.
RSS feed for comments on this post.
Sorry, the comment form is closed at this time.