June 10, 2022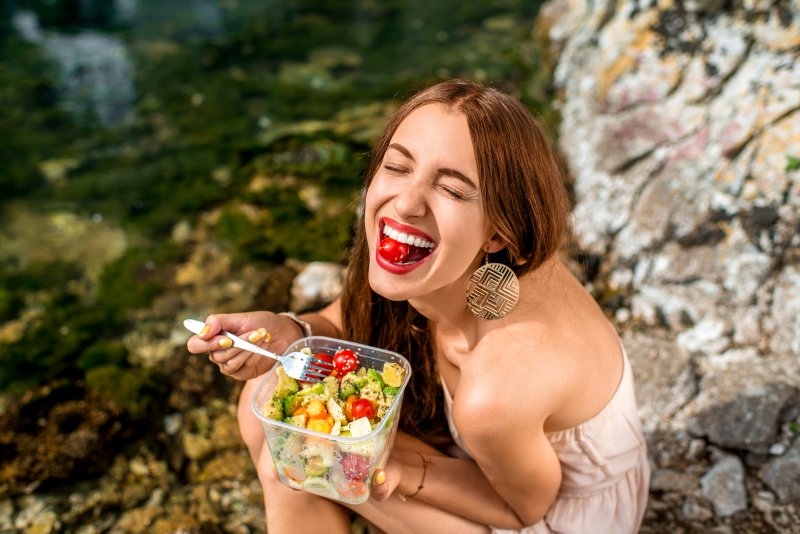 Are you struggling with minor dental imperfections like chipped, stained, or misshapen teeth? One of the best ways to address this and enhance your pearly whites is with veneers. While these porcelain shells can conceal most mild dental flaws, you may also have to adjust the foods you eat during your treatment process. Read on to learn how your diet can change with veneers and ways to preserve your cosmetic results!
Will Your Diet Change If You Get Veneers?
As you wait to receive your final veneers, you'll be required to cover your exposed teeth with temporary ones. Although these are durable, they can also be easily dislodged or damaged. For this reason, you may have to avoid certain foods while you wait for your permanent veneers, such as hard, sticky, crunchy, and meals that are likely to stain your natural pearly whites. Instead, you should stick to softer foods like scrambled eggs, pudding, bananas, and mashed potatoes to protect your temporary shells. Once your permanent veneers are ready, your dentist will cement them to your prepared teeth, and you won't have to worry about many food restrictions.
4 Essential Tips to Keep Your Veneers in Pristine Condition
Now that you have beautifully enhanced pearly whites, you'll likely want to make the most of your cosmetic results. While you'll be able to enjoy many of your favorite meals, you might consider implementing a certain diet and habits to ensure your veneers stay in great shape. Here are several measures you can take to preserve your brand-new teeth:
Brushing & flossing regularly: Though your veneers will provide a virtually permanent whitening solution, it's still essential that you clean them every day. Not only will this help maintain their bright color, but it will also prevent plaque and bacteria buildup, which can cause more serious dental health issues if left unchecked.
Eat plenty of veggies & fruits: Having a nutritious diet is both good for your veneers and overall health. Try eating foods like celery, apples, and other crunchy vegetables to help scrape off debris and plaque from your smile.
Stay clear of staining beverages: Certain drinks like sodas, red wine, and coffee can easily stain your veneers. To prevent this, you should limit how often you consume dark-colored beverages, use a straw to reduce contact with your teeth, or avoid them altogether.
See your dentist twice a year: With your dentist's help, they can monitor your oral health and the condition of your veneers, and address any developing issues they might detect. They can help prevent more serious problems from starting as well as polish your smile so that you can enjoy your cosmetic treatment for years to come!
Your diet may need to change a little after getting veneers, but you'll be able to show off beautiful pearly whites in the long run. Speak with your dentist if you want to know more about preserving your new teeth, and they'll be more than happy to help.
About the Author
Dr. Roger Morton studied at the University of Texas Health Science Center in San Antonio and regularly seeks continuing education to refine his expertise. He's also a member of several groups like the North Texas Dental Society, and the American and Texas Dental Associations. He's proud to offer multiple high-quality treatments, including veneers and dental checkups/cleanings to help you achieve and maintain your dream smile. If you'd like to schedule an appointment, visit his website or call 972-442-5599.
Comments Off

on Will I Have to Change My Diet After Getting Veneers?
No Comments
No comments yet.
RSS feed for comments on this post.
Sorry, the comment form is closed at this time.