December 31, 2020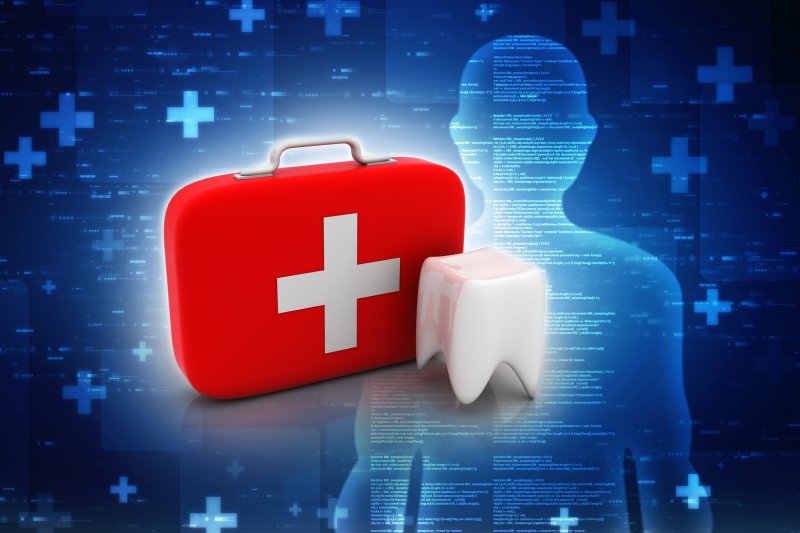 You may already have a first aid kit at home just in case disaster strikes, but do you have a dental emergency kit in case someone in your family has a dental problem? You never know when one may happen, so it pays to be prepared at all times. But what should you keep in your kit? An emergency dentist in Wylie lists off some important items that you should always keep stocked in your emergency kit.
Dental Mirror
A lot of the mouth is difficult to see with just your eyes. That's why having a dental mirror is a good idea. This way, if you need to help someone out who is having a dental emergency, you will be able to see what's going on. You can even find ones with built in lights so that you don't need to have an extra flashlight on hand.
Floss
If something is stuck between the teeth, it can cause pain and discomfort. In order to dislodge anything that is wedges between your teeth, use some dental floss. Keep a travel-sized container in your new kit to help you get some relief.
Pain Reliever
Your emergency dentist will be able to help when it comes to relieving pain, but until then, you will need to make-do with an over-the-counter pain reliever. Pick your preferred one. However, do not use aspirin because it is an anticoagulant. This makes it more difficult for the blood to clot. Instead, use something like ibuprofen or acetaminophen.
Cold Compress
When there is pain due to swelling in the mouth, a cold compress can help. Not only will it help to numb the pain that you are feeling, but it is also a natural way to reduce inflammation.
Salt
An easy homemade mouth rinse consists of just warm water and salt. This can benefit your mouth a lot because it helps to relieve infection induced pain, washes away dislodged food, and is a natural disinfectant. It can speed up the healing process of sores in the mouth.
Dental Wax
Does someone in your family have braces? Then they probably know what it's like to have a wire or bracket poking at their cheek. Their dentist will be able to help with this problem, but until then, orthodontic wax is a great way to cover up the trouble spots.
Gauze or Cotton Balls
The best way to reduce bleeding in the mouth is by putting pressure on the area. It is easiest to do this with either cotton balls or gauze that you can bite down on. Store them carefully so they don't get dirty.
Disposable Gloves
You should keep some latex or vinal gloves in your kit just in case you need to help someone out with their teeth. This way, you can significantly reduce the spread of any infections or germs from one person to another.
It pays to be prepared when disaster strikes. By having these items on hand in a dental emergency kit, you will be ready to deal with oral health problems until you can make it to the dentist.
About the Author
Dr. Roger Morton is an experienced dentist who has been working in the dental field for nearly two decades. He is currently affiliated with the American Dental Association, Texas Dental Association, and North Texas Dental Society. If you are experiencing a dental emergency, he would be happy to help you get some relief. For more information or to schedule an urgent appointment, visit his website or call (972) 442-5599.
Comments Off

on What Should You Include in Your Dental Emergency Kit?
No Comments
No comments yet.
RSS feed for comments on this post.
Sorry, the comment form is closed at this time.