November 11, 2020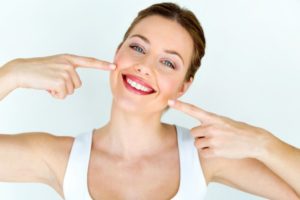 It might be easy to take your teeth for granted. Each day they assist you in a multitude of ways, such as talking, eating, and plenty of other activities, but did you know that they are far from ordinary? Your Wylie dentist has ten fun facts to share about your teeth that you might not know that will most likely make them more fascinating to you.
Ten Facts You Might Not Know About Your Teeth
If you're looking for a fun topic to bring up at the dinner table this holiday season, consider sharing these ten facts about teeth with your family and friends. After all, who doesn't love learning new things?
Your teeth are totally unique to you. Like your fingerprints, you are the only person in the entire world who has a set of teeth that are made up like yours. If you've ever noticed scientists on crime shows using dental records to identify bodies, this is why it's possible!
Teeth are like icebergs. You may have already guessed this from examining a lost tooth as a child, but one-third of your teeth are covered by your gums. This is what protects them from the infiltration of decay-causing bacteria.
The average mouth has thirty-two teeth. This number is including the four unnecessary wisdom teeth, which many people choose to remove to prevent crowding. Remaining are eight incisors, four canine teeth, eight premolars, and eight molars.
Your tooth enamel is the hardest part of your body. This outmost layering on your teeth is comprised of calcium and phosphate. Did you know that your teeth are even stronger than the bones inside of your body? This is because of the specific proteins and crystallites they're made of.
Your enamel may be hard, but it's not invincible. The reason teeth are prone to decay, cracking, or breaking is because enamel can be worn down by too much acid and sugar in the foods and drinks you consume over time. It's important to take good care of the enamel on your teeth by brushing and flossing every day to remove plaque build-up and bacteria.
Yellowing teeth could mean decay is present. If you pay attention, your teeth will tell you things. If you have stains on one or more of your teeth that appear to grow or become darker over time, it's a good idea to have them examined by your dentist to make sure there isn't a larger issue at hand.
There is a part of your teeth that will never stop growing. Dentin, which is the layer underneath your enamel, is made up of small passageways that supply the teeth and nerves with nutrition. This is how your teeth continue to be able to transmit feelings of sensitivity throughout your life.
There are hundreds to thousands of types of bacteria commonly found in the human mouth. This might be a "fun fact" you want to save for after holiday dinner, but it's true! According to the Journal of Clinical Microbiology, all of these different types of bacteria serve different functions. Some convert sugar into acid, which can promote decay. This is why a regular oral hygiene routine is so important.
Plaque is no joke. If you've ever had to see the dentist for cavity fillings, you can thank plaque. If you don't work hard to remove it from your teeth on a daily basis, it will harden into a substance called tartar. This is what your dental hygienist likely spends a while moving with a dental pick during your regular check-ups.
Your mouth is a saliva factory. Again, not one of the most "palatable" facts, but your body produces between two to four pints of saliva each day. That's half a gallon! Over your lifetime, this will amount to about ten thousand gallons. Although it may seem excessive, saliva plays a critical role in washing away food particles and neutralizing cavity-causing acids.
The more you know about your teeth, the more you'll appreciate them. Hopefully, this will also encourage you to take the best care of them possible so that you can continue to maintain good oral health throughout your life.
About the Author
Dr. Roger Morton leads the team of experts at Wylie Family Dentistry. With years of experience in the world of dentistry, his top priority is ensuring that his patients are provided with the knowledge and tools they need to keep their smiles as healthy as possible. He values the fact that everyone he cares for knows that they are in good hands at a practice built on integrity and quality care. Are you ready to schedule your next check-up and cleaning? Request an appointment online, or call us at (972) 442-5599.
Comments Off

on Ten Fun Facts About Teeth
No Comments
No comments yet.
RSS feed for comments on this post.
Sorry, the comment form is closed at this time.