February 13, 2020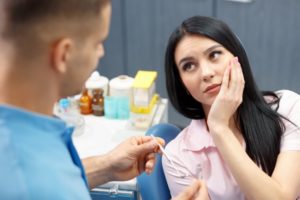 You've had a toothache for a few weeks now. At first it was mild and only bothered you some of the time, but pretty soon it started to interfere with your ability to eat, sleep, and go about your daily life. You can't even smile without intense pain shooting through your mouth. You're starting to think that you should call your emergency dentist to get the tooth taken out. But did you know that you might not even need a tooth extraction in a situation like this? Keep reading to learn why.
Is There an Alternative to Getting a Tooth Extracted?
Yes. In fact, one of the most common ways of relieving a severe toothache is also a way of avoiding extraction. It's known as root canal therapy. While root canals have a daunting reputation of being scary, they're actually not painful at all, since your dentist will use plenty of local anesthetic to numb the area before going through with the procedure.
After numbing your mouth, your dentist will access the center of your tooth and remove the infected pulp, including the nerve, and replace it with a synthetic material. Then they will top it with a filling or dental crown to protect it. Most teeth that are treated with root canal therapy go on to last the rest of a patient's life.
Why Is a Root Canal Better Than a Tooth Extraction?
Ultimately, the decision is up to your dentist. When you have the choice, however, a root canal is usually better than a tooth extraction. A root canal allows you to keep your natural tooth, often for decades, if not the rest of your life. Premature tooth loss comes with a variety of problems, such as:
Your remaining teeth might shift to try and fill in the gap created by your missing tooth.
Your jawbone begins to shrink as a result of not being stimulated by your tooth root. This can cause your facial muscles to sag, making you appear older than you actually are.
Missing teeth can make eating hard or crunchy foods a challenge.
You may have an unsightly gap in your smile.
Replacing your tooth with a bridge or dental implant can be expensive.
If you have a serious toothache, consider asking your emergency dentist about getting a root canal instead of resorting to pulling the tooth. More often than not, it can relieve your pain without leaving a gap in your smile.
About the Author
Dr. Roger Morton is a family and emergency dentist who obtained his doctorate at the University of Texas Health Science Center in San Antonio. He has practiced dentistry for more than two decades since then. If you call Wylie Family Dentistry with a severe toothache, they will do their utmost to see you on the same day. To learn whether a root canal or extraction is the better choice for you, contact Dr. Morton's office at (972) 442-5599.
Comments Off

on You Might Not Need an Extraction
No Comments
No comments yet.
RSS feed for comments on this post.
Sorry, the comment form is closed at this time.