January 20, 2020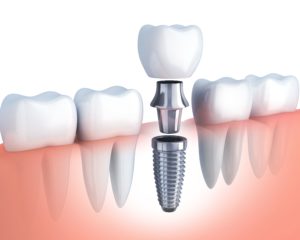 While missing a tooth in the front of your mouth can be cute when you're a kid, you want to avoid it at all costs once you're an adult. Having a gap in your smile impairs you both functionally and aesthetically. Your front teeth are the most important element of your smile, so when one part of that is missing, it's quite noticeable. As soon as you lose your tooth, you'll want to begin formulating a plan to replace it. One of the best ways to do so is with dental implants. But do they work to replace a front tooth? Let's find out.
What Are Dental Implants?
A dental implant is a small, screw-shaped titanium post that is surgically placed into the jawbone, where the roots of your lost tooth once were. For four to six months after your implant is inserted, it fuses with your jawbone in a remarkable process called osseointegration. Once this process is complete, your implant will feel like a completely natural part of your smile. It will then be topped with a lifelike dental crown, bridge, or denture, depending on how many teeth you're getting replaced.
Why Should You Choose a Dental Implant to Replace Your Front Tooth?
Dental implants are just as perfect for replacing front teeth as they are for back teeth. They are the most natural-looking solution to tooth loss currently available. Some other benefits of dental implants include:
Restoring your smile and biting force back to what it used to be
High success rate
Low risk for complications
More comfortable than partial dentures
Prevent jawbone loss that typically comes with missing teeth, unlike dentures and bridges
Easy maintenance
How Do You Maintain Your Dental Implant?
The great news about dental implants is that they are surprisingly easy to take care of. Simply brush and floss around the implant restoration as you would a natural tooth. If you clench or grind your teeth at night, see your dentist about getting a custom nightguard made. Avoid biting or chewing on hard objects, like pencils, ice, and hard candies. Finally, remember to schedule a checkup and cleaning with your dentist at least twice a year to make sure your implant is still in impeccable condition.
Yes, dental implants are absolutely capable of replacing a front tooth as well as a back on. If you're sick and tired of having a gap in your smile, ask your dentist today whether a dental implant is the right solution for you.
About the Author
Dr. Roger Morton obtained his Doctor of Dental Surgery degree from the University of Texas Health Science Center at San Antonio. He regularly engages in post-graduate training courses in many areas of dentistry, including dental implants. If you're ready to replace your missing front tooth with the best that modern dental technology has to offer, visit Dr. Morton's website.
Comments Off

on Can Dental Implants Replace Front Teeth?
No Comments
No comments yet.
RSS feed for comments on this post.
Sorry, the comment form is closed at this time.