November 21, 2019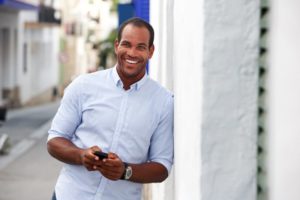 Are you suffering from missing teeth and want to be sure that you choose the best restorative option that will fit with your lifestyle? Dental implants use high-quality materials and modern technology to provide patients with fantastic results. By restoring patients' missing teeth from the roots up, they're able to improve their quality of life and get their oral health back on track. Read on to find out whether you and dental implants are a match made in heaven, and how you can start planning your procedure.
4 Factors That Make Good Candidates for Implants
The best way to find out whether dental implants are the perfect fit for you is to schedule a consultation with your implant dentist. But before you do, here are four factors that make ideal candidates for the procedure. Keep in mind, if you don't meet one or all of these criteria, that doesn't mean that you're not a good candidate, it just means you'll need some help from your dentist before your surgery can be scheduled.
Missing One or More Teeth
Whether you're missing a single tooth or all of your pearly whites, you can benefit from getting an implant-retained crown, bridge, or denture. They provide a longer lasting, stronger, and more durable solution to tooth replacement than traditional options.
Good Oral Health
One common cause of implant failure is bacterial infection that develops from poor oral health. That's why it's important to develop a good hygiene routine and stick with it. If you suffer from gum disease or other conditions, you'll need to have those addressed before your procedure can begin.
Dense Jawbone
After you've been missing teeth for a while, your jawbone will begin to deteriorate because it's not being used and stimulated by the root of a tooth. During your consultation, your implant dentist will take X-rays of your facial structure to determine whether you need a bone graft to make your jaw strong enough to support your titanium implants.
No Longer or Have Never Smoked
Studies have shown that people who smoke have a higher risk of implant failure. If you smoke currently, it's a good idea to quit before you go through with the surgery, because it can slow down your healing process. Breaking these oral habits before you get dental implants will make them last longer and stay healthier.
Planning Your Implant Procedure
The first step of planning your dental implant procedure is scheduling a consultation with your dentist. During this appointment, they'll examine your oral health and facial structure and let you know whether you're a good candidate for the surgery, or whether you need to have some preparatory procedures beforehand. They'll also develop a customized treatment timeline to answer any questions you may have, like how much everything will cost, how long it will take, and how many implants you'll need to have placed.
About the Author
Dr. Roger Morton has nearly two decades of experience as a dentist. Over those years, he has consistently pursued advanced education and remained an active member of professional organizations. He has spent countless hours perfecting his skills with dental implants, removable dentures, and endodontics, and is passionate about improving his patients' oral health and quality of life by offering the latest tooth replacement treatments. For questions or to schedule a consultation for dental implants, visit Wylie Family Dentistry's website or call 972-442-5599.
Comments Off

on What 4 Factors Make a Good Candidate For Dental Implants?
No Comments
No comments yet.
RSS feed for comments on this post.
Sorry, the comment form is closed at this time.