January 10, 2020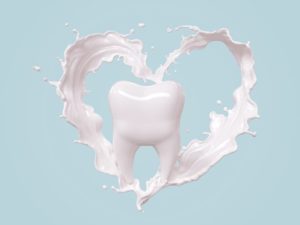 You're relaxing at home and enjoying a lollipop when you get to the very end of the sucker, so you decide to go ahead and bite off the last bit. Suddenly you hear a crunch that's much louder than you think it should be. A second later, a spark of pain shoots through your mouth. You spit out what remains of the lollipop to find that a piece of your tooth has broken off! You've heard that you should place the pieces of a chipped tooth in milk, but is there really any truth to that? Keep reading to find out.
Does Placing the Tooth in Milk Really Help?
You may have heard this old wives' tale before, but it's actually true! Cow's milk is incredibly compatible with broken teeth, as it helps to maintain the correct fluid balance in the root of the tooth. This helps it survive longer, increasing the chances that it can be successfully reattached by your dentist.
If you completely knock out a tooth, you should attempt to place it back in its socket. However, if that's simply not possible, storing the tooth in milk until you can see your emergency dentist is the next best thing.
What Else Should You Do If You Break or Knock Out a Tooth?
First things first, call your dentist. A dislodged or broken permanent tooth has the best chance of being successfully reimplanted if you can see a dental professional within 30 minutes to an hour after the incident.
If the area around your damaged tooth is bleeding, wet a piece of gauze or cloth with cold water and use it to apply pressure to the area.
If the entire tooth was knocked out, gently pick the tooth up by the crown, or the part that you use to chew, and not the pointed root. However, if only a small portion of the tooth was broken off, you should still try and save some of the pieces by placing them in a container of milk, as there is a chance they can be reattached by your dentist.
Breaking or dislodging a tooth doesn't have to be the end of the world. As long as you receive dental care soon enough, your tooth can usually be restored to perfection.
About the Author
Dr. Roger Morton obtained his doctorate from the University of Texas Health Science Center at San Antonio. He has undergone extensive post-graduate training in many areas of dentistry, including dental implants to replace teeth that have been knocked out and couldn't be successfully reattached. If you are experiencing a dental emergency like a chipped tooth in the Wylie, TX area, feel free to contact Dr. Morton's practice at (972) 442-5599.
Comments Off

on Does Keeping a Tooth in Milk Really Help?
No Comments
No comments yet.
RSS feed for comments on this post.
Sorry, the comment form is closed at this time.