December 4, 2019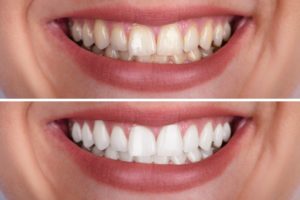 Do you feel like your smile has been lacking a little? Does something seem off about it? It might have something to do with the color of your teeth. They have recently begun to take on a yellowish hue, and you wish there was something you could do about it. You've tried over the counter teeth whitening solutions, but they never seem to work. Is your smile destined to suffer? Nope! Thanks to professional teeth whitening from your dentist, your grin can shine once more. Teeth whitening has helped countless people, but will it work for you? Continue reading to find out.
What Causes Tooth Stains?
There are a number of reasons that your teeth might become discolored, including:
The natural aging processes
Smoking
Poor oral hygiene
Trauma
Consuming dark liquids like coffee, tea, or colored sodas
Exposure to excessive fluoride or tetracycline in childhood
Fortunately, professional teeth whitening from your dentist can help in most of these situations.
How Does Professional Teeth Whitening Work?
First and foremost, your dentist uses a special whitening solution that is several times more potent than anything you can find in stores or online. Usually, the main ingredient is hydrogen peroxide or carbamide peroxide. Your dentist can prescribe customized whitening trays at home. The active ingredient permeates the tooth enamel to remove stains both above and below the surface of the tooth. If you opt for take-home treatment, you'll have to wear your trays for a prescribed amount of time each day, with your smile up to eight shades whiter after about two weeks.
Does Teeth Whitening Work for Everyone?
Unfortunately, not even professional teeth whitening works for every smile. For example, yellow teeth can usually be corrected with whitening treatments, but teeth that are brown- or gray-toned may not respond well. Whitening with also not work on dental restorations, such as crowns, veneers, or fillings.
Other than those exceptions, teeth whitening should work on just about everybody's smile. If you feel like your grin has been looking a little lackluster lately, don't hesitate to contact your dentist about getting professional teeth whitening today!
About the Author
Dr. Roger Morton pursued his doctorate at the University of Texas Health Science Center at San Antonio, almost twenty years ago now. These days, he regularly attends post-graduate courses in subjects like endodontics (root canals), dental implants, and removable dentures. His practice offers at-home whitening treatment to get your smile shining brighter. To learn more, click here to visit Dr. Morton's website.
Comments Off

on Does Teeth Whitening Work for Everyone?
No Comments
No comments yet.
RSS feed for comments on this post.
Sorry, the comment form is closed at this time.